Benvenuti a Stoccolma!
Stoccolma, la capitale del Regno di Svezia, possiede un fascino come poche altre città. Costruita su 14 isole e abbracciata da due bacini acquei, il lago Mälaren e il mar Baltico, Stoccolma comunica una bellezza e una calma che meglio si intendono dal suo soprannome di Venezia del nord.
Stockholm Guide & Cruise Services è un impresa che lavora al fine di creare momenti indimenticabili per i propri clienti durante la loro visita a Stoccolma.
Noi offriamo visite guidate così come passeggiate nella città vecchia, visite ai musei e escursioni in battello o in bus. Stockholm Guide & Cruise Services organizza pacchetti su misura in occasione di viaggi incentives, conferenze ed eventi.
Noi siamo profondi conoscitori di Stoccolma. Stockholm Guide & Cruise Services si serve di guide autorizzate che assieme si esprimono in circa 20 lingue diverse. Noi abbiamo solide e verificate conoscenze di Stoccolma e di ciò che la città ha da offrire.
Noi mettiamo al centro della nostra attività le tue esigenze. È importante che proprio tu sia soddisfatto. Contattaci per creare un programma che si addica ai tuoi bisogni.
The Vasa tour aims at creating an intriguing journey into 17th century Sweden, it's Government, people, industry, ideals, living conditions etc. It also gives the tourist an insight into ship-building, salvaging and preservation techniques.
Read more...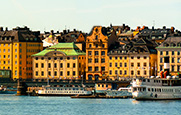 The visitor can expect to get a good insight into the reasons why Stockholm was founded and how she developed into the capital city of the Kingdom of Sweden.
Read more...