Stockholm Guide and Cruise Services is a fresh player in the Stockholm tour operator business, aiming to provide you, with the most apt, satisfying and exclusive Stockholm tour experiences available.
In order to ensure you with the best possible Stockholm experience, we embrace program individualization to help suit your specific ideas and needs.
We know that the guide plays a key role in creating a successful tour experience. This is why we pride ourselves in using the very best local tour guides on the Stockholm market. Extensive knowledge and degrees in and International Business, Politics, History, Diplomacy and Social Studies, ensure a stable base for catering a wide variety of requests and interests.
Our guests, when reviewing our tours, are often kind and praise us for thoroughly satisfying their demands (and often exceeding them).
Send us a mail or give us a call, so that we can discuss what we love the most: how Stockholm should be experienced and how we can create your unique Stockholm tour experience!
The Vasa tour aims at creating an intriguing journey into 17th century Sweden, it's Government, people, industry, ideals, living conditions etc. It also gives the tourist an insight into ship-building, salvaging and preservation techniques.
Read more...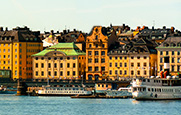 The visitor can expect to get a good insight into the reasons why Stockholm was founded and how she developed into the capital city of the Kingdom of Sweden.
Read more...